Bio Data of Justice Shri M.M. Kumar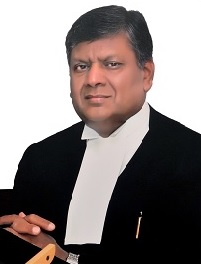 Shri Justice M.M. Kumar (Retd.) has an illustrious academic and professional record. He qualified his LL.B from Punjabi University, Patiala in 1977 and was enrolled as an Advocate in the same year. He commenced his practice in the District Courts of Sangrur. He went to England in 1979 for higher studies and qualified for LL.M., from the University of Birmingham. After returning to India he resumed his practice at the Punjab and Haryana High Court at Chandigarh. He authored a book titled "Control of Exclusion Clauses in England and India" published by Ravenswood London (1985). He worked as Part time Faculty at the Department of Law, Punjab University, Chandigarh from 1984-90. He was elected as Vice-President of the Punjab and Haryana High Court Bar Association for 1991-92 and later appointed as Additional Advocate General (Punjab) in October 1995.
Shri M.M. Kumar was elevated as a Judge of the Punjab and Haryana High Court at Chandigarh on 02.07.2001. Worked as Executive Chairman, Legal Services Authority and Chairman, Mediation Committee and held Mega Lok Adalats. During his tenure as a Judge of Punjab & Haryana High Court, he delivered a large a number of landmark judgements in every branch of law including Constitutional Law, Company Law, Service Law, Civil Law, Election Law, Land Acquisition, Tax, PIL. He has made significant contribution to build the Chandigarh Judicial Academy and the Rajiv Gandhi National Law University Patiala. He is a visiting Professor of RGNLU, Patiala.
Later appointed as Chief Justice of Jammu and Kashmir High Court on 08.06.2012. As Chief Justice of Jammu and Kashmir High Court, dealt with many PIL concerning world famous Dal Lake, Violation of Master Plan in Srinagar, Jammu and Katra; Corruption cases, Popularized use of video conferencing, Mega Lok Adalats and a number of other projects. He has the unique distinction of holding the courts during floods in September 2014 when the High court building (10 ft water), District court building (18 ft water) and his own house (8ft water) He alongwith his family was rescued at 2 O' clock during the night of 7th and 8th September 2014 when flash flood were reported despite non-cooperation of the State Authorities. The new address of the High Court was an unoccupied house allotted to a judge at Gupkar Road, Sri Nagar. In the make shift High Court a number of insurance cases were decided by him paving the way for restoring many business establishments to their normal business activities. He is well known for his independent approach and impeccable integrity. He superannuated on 04.01.2015.
After retirement Justice Kumar conducted a number of commercial arbitrations which included the cases referred by Hon'ble the Supreme Court and the High Courts.
Justice Kumar then took over charge as Chairman, Company Law Board on 5th June 2015 and continued as such till 31st May 2016. He was then appointed as the First President of National Company Law Tribunal on the abolition of Company Law Board on 1st June 2016. During his tenure, 28 benches of the NCLT started functioning from 14 states. He demitted office on 5th January, 2020. Thereafter he resumed his arbitration and consultancy practice in New Delhi.
He joined the NHRC as Member on June 2, 2021.