Bio Data of Justice Shri Prafulla Chandra Pant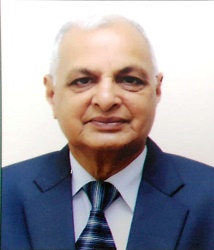 Justice Shri Prafulla Chandra Pant
Shri Justice Prafulla Chandra Pant assumed office as Member of the National Human Rights Commission on the 22nd April, 2019. Prior to his appointment as Member, NHRC, he was Judge of Supreme Court of India from 13th August, 2014 to 29th August, 2017.
He was born in Pithoragarh in the State of Uttarakhand (then part of Uttar Pradesh State) on 30th August, 1952. He got his primary and secondary education from there, then he graduated from Allahabad University with a degree of Bachelor of Science, and thereafter obtained degree of L-L.B from Lucknow University.
Justice Pant enrolled with U.P. Bar Council at Allahabad in 1973, and practiced Law in High Court of Judicature at Allahabad. From Feb 1976 to Nov 1976, he served as Inspector Central Excise and Customs at Sagaur, M.P. Thereafter, he entered into Uttar Pradesh Judicial Service in the year 1976 through Uttar Pradesh Civil (Judicial) Services Examination, 1973. He held different posts in Judicial Service at Ghaziabad, Pilibhit, Ranikhet, Bareilly and Meerut in state of Uttar Pradesh. Thereafter, he was promoted to Uttar Pradesh Higher Judicial Service in 1990, and joined as Additional District Judge of the Bahraich district. He also worked as Joint Registrar in the High Court of Allahabad.
After creation of the new state of Uttarakhand, he served as the first Secretary, Law and Justice of the state. He also held the post of District and Sessions Judge at Nainital before being posted as Registrar General of the High Court of Uttarakhand at Nainital. He took oath of Office of Additional Judge, High Court of Uttarakhand with effect from 29 June 2004, where after, on 19 February 2008, he was administered oath as a permanent Judge of the Uttarakhand High Court. He assumed charge of Office of Chief Justice of the High Court of Meghalaya at Shillong in the forenoon of 20 September 2013 and continued till 12 August 2014. On being further elevated he took oath of Office of Judge, Supreme Court of India on 13 August 2014. After serving over 3 years as a judge of the Supreme Court of India, he demitted the office at 29 August 2017.
He has written books on different subjects of law, few of which include: Marriage, Divorce and other matrimonial disputes, Commentary on Code of Civil Procedure, Relief of Injunctions and Sundar Nirnay Kaise Likhen (in Hindi). His autobiography titled "Sangharsh Aur Bhagya" (in hindi) is published in the year 2021.