Bio Data of Ms Jyotika Kalra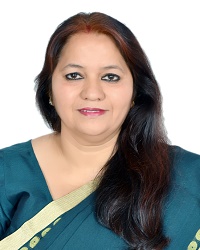 91-11-24663207, 24663208 (O)
Ms. Jyotika Kalra joined as a Member, National Human Rights Commission in April 2017. Before joining Commission, she was a practicing Advocate and Advocate-on-record with the Hon'ble Supreme Court of India. She did her Bachelor of Commerce from Delhi University and Bachelor of law from Campus Law Centre, Delhi University. Her Masters of Law is from Kurukshetra University. She has filed many Public Interest Litigations (PILs); significant among them is opening up a channel for females to practice as a make-up artist in Cine industry after 60 years of independence; raising the issue of non-recruitment of women in the Armed Forces that resulted in opening of opportunities for women in Territorial Army etc. She has conducted many awareness and gender sensitization programs with schools, colleges, Universities, Govt. and non-Govt. organizations. She was a Member of many Sexual Harassment Committees and has dealt with many sexual harassment complaints. After being appointed as a Member of the National Human Rights Commission, she has been dealing with subjects like Women, Children, LGBTI, Trafficking, Reproductive rights etc. Under her leadership, many workshops have been conducted in the Commission as well as in different parts of the Country relating to POCSO, JJ Act, restorative justice, sexual harassment at workplace, gender equality and economic development etc.
She has been honoured by the Supreme Court of India for her three books. She was given the award of Outstanding Woman in 2014 by the National Commission for Women. She was on the Expert Committee of NCW and deliberated on drafts of women related laws. She was appointed Amicus Curie in important matters, some of them concerning violation of women's rights. She was on the panel of the Supreme Court Legal Services Committee.
A passionate activist, she has been associated with many NGOs. As a representative of these organizations, Ms. Kalra has attended International Conferences at Istanbul, Manchester and United Nations Headquarters, New York. She has deliberated on many rights issues of women which include surrogacy, female foeticide, witch-hunting, etc. She has worked on rights of domestic workers, workers in the Gulf; Dalit entry in temples; victims of religious fundamentalism.
She has presented many papers in the country and a few abroad. Her sole motive is to spread the ideas and in furtherance of the same reach out to as many people as possible. Her articles mainly on the subject of women and law have been published in various magazines and newspapers.
In the past, she has enjoyed imparting knowledge as part-time Lecturer in the Faculty of Law, University of Delhi and I.P. College, Delhi University.