NHRC Chairperson, Mr. Justice Arun Mishra says promoting use of Hindi and other Indian languages necessary to protect unity, integrity, culture and value systems of the country
New Delhi, 25th November, 2021
Mr. Justice Arun Mishra, Chairperson, National Human Rights Commission, NHRC, India today said that the Hindi language and literature have played an important role in the freedom struggle of the country. However, it is time to introspect where we are heading in terms of keeping alive our culture through our languages after seventy five years of our Independence. He was addressing a function organized today to present awards to the 35 winners of various competitions held during Hindi fortnight for the officers and staff of the Commission to encourage them to work in the official language.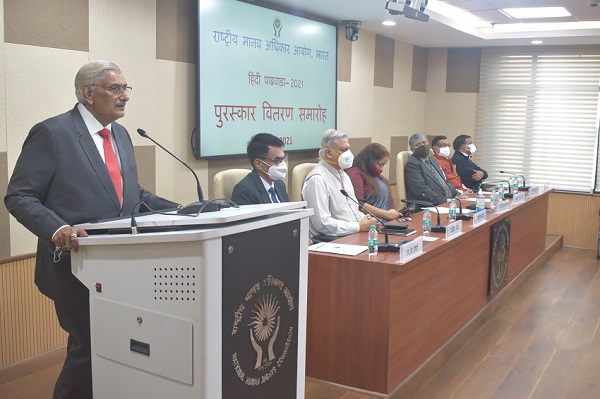 The NHRC Chairperson said that in order to keep our unity, integrity and culture intact, it would be necessary to keep alive the Hindi and other Indian languages when there are apprehensions that one language and a dialect is going extinct every month in the world. He expressed concern over decreasing understanding and use of Hindi by the young generation in an era of internet aided communication devices mostly in English language.
However, he said that there is nothing wrong in learning different foreign languages but the matter of concern is that these languages also bring in their culture, which, if not taken into account, will damage the Indian culture and value systems. Thus, celebration of Hindi fortnight becomes relevant in this context. He said that if the literature of a country is not written and promoted in the language of that country, its culture & customs will be lost. Therefore, all the mother tongues and the national languages need to be maintained and enriched. Justice Mishra also said that at a time when foreign countries have been taking advantage of Indian literature in Sanskrit language, it is necessary that we also protect our culture through our languages and guide the world.

The NHRC Members, Mr. Justice M.M. Kumar, Mrs. Jyotika Kalra, Dr. D.M. Mulay, Mr. Rajiv Jain and Secretary General, Mr. Bimbadhar Pradhan also addressed the gathering and encouraged them to work and promote Hindi language. Senior officers and staff of the Commission were present.
****